Telford, in Shropshire, is a notorious Muslim grooming hotspot dubbed the "New Rotherham".
Police, the council and other authorities are covering up a grooming scandal of epic proportions due to political correctness.
When Britain First held a day of action in the town, council minions subjected our activists to non-stop harassment and even attacked me!
Please watch the full video report below: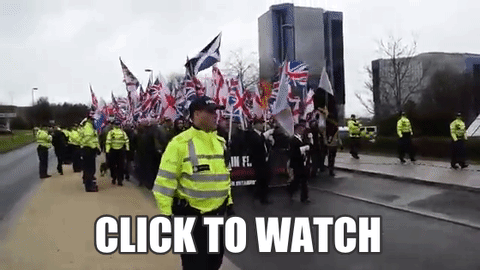 Yours sincerely,
Paul Golding
Leader, Britain First
PS: If the video image above doesn't work, please use the link below:
https://www.facebook.com/OfficialBritainFirst/videos/1151319821679944/
When ever Grooming is happening now in the UK the PC PRESS say it is Asians -this is a hate crime against Chinese and Indians who don't seem to groom young English Girls. SO why do Muslims? We need to look at the example set by MO-BACON-HEAD THE FALSE PROPHET. HE WAS WELCOMED AS A REFUGEE BY A JEWISH TRIBE IN MEDINA. WITHIN 5 YEARS HE HAD ENSLAVED THEM OR KILLED THEM ALL. HE INSPECTED ALL THE BOYS FOR PUBIC HAIR AND THOSE WHO WERE IN PUBERTY WERE EXECUTED. HE MADE HIS FAVE WIFE AYESHA AGED 7 YEAR OLD WATCH THESE KILLINGS. he then killed the boys fathers. Some of the attractive Jewish women who witnessed their husbands being killed were then made to become Mo-bacon-head's wives. HE THEN RAPED THEM. ISLAM HAS KILLED 240 MILLION PEOPLE AND MO-BACON HEAD LET HIS MEN RAPE CAPTURED WOMEN. DOES HIS ACTIONS SOUND LIKE A MAN OF GOD OR OF SATAN? THE ROTHCHILDS – RED SHIELD ADOPTED THE SYMBOL OF THE PLANET SATURN – THEY ARE SATANISTS. THERE IS EVIDENCE OF SNUFF MOVIES BEING MADE AT ROTHCHILD PARTY'S. ROTHCHILDS ALSO SUPPLY UNDER AGE GIRLS TO POWERFUL PEOPLE. SO DID ONE OF PRINCE ANDREWS FRIENDS. THE PEOPLE ABUSING YOUNG GIRLS AND BOYS AT PARTY'S ARE OFTEN SENIOR POLICE, FREEMASONS, LAWYERS AND POLITICIANS. SO NOTHING IS DONE AND VICE POLICE WHO UNCOVER TOO MUCH ARE MOVED FROM THEIR JOBS. ALL OVER EUROPE REFUGEES ARE RAPING WOMEN. 90 PERCENT OF WOMEN RAPED IN SWEDEN HAVE BEEN RAPED BY REFUGEES – WHAT RELIGION ARE THESE REFUGEES? 2,000 WOMEN ASSAULTED IN COLOGNE ON ONE NIGHT. IT IS TIME TO STAMP DOWN ON THESE HATE CRIMES BY MUSLIMS. IN SOME ISLAMIC LANDS WOMEN HAVE TO MARRY RAPISTS OR FACE BEING STONED TO DEATH. A WIFE CAN'T BE RAPED BY HER HUSBAND UNDER SHARIA LAWS.